THE ANATOMIST'S APPRENTICE by Tessa Harris
In eighteenth-century England, the murder of Sir Edward Crick sends a torrent of gossip breezing through Oxfordshire; although, aside from his sister, Lady Lydia Farrell, few mourn the young man. When Lady Farrell's husband becomes the prime suspect in the murder, she enlists the help of Dr. Thomas Silkstone–an anatomist and pioneering forensic detective–to solve the murder and prove his innocence.
Buy Now: THE ANATOMIST'S APPRENTICE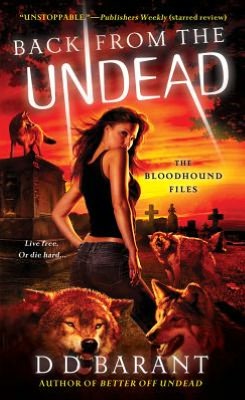 BACK FROM THE UNDEAD (The Bloodhound Files, Book 5) by DD Barant
Another work day, another case for the Bloodhound Files. But this time, Jace is truly stumped: How is she, a mere human, supposed to penetrate the dark heart of a child-trafficking ring of pire orphans—one that turns out to be part of a blood-farm operation, in the crime-ridden border city of Vancouver, British Columbia?
Jace is in over her head. But with the help of her former lover, Tanaka—whose family is one of the last samurai clans left in Japan—she stands a chance at seeking justice for the condemned children… Until the Yakuza tries to put an end to Jace's investigation. Jace risks more than death—this time, it's the fate of her very soul that's in danger . . .
Buy Now: BACK FROM THE UNDEAD
ALL SEEING EYE by Rob Thurman
Picking up a small, pink shoe from the grass forever changed young Jackson Lee's life. Not only did its presence mean that his sister Tessa was dead—murdered and stuffed in the deep, black water of a narrow well—but the shoe itself told him so. Tessa's death triggers an even more horrific family massacre that, combined with this new talent he neither wants nor can handle, throws Jack's life into a tailspin. The years quickly take him from state homes to the streets to grifting in a seedy carnival, until he finally becomes the cynical All Seeing Eye, psychic-for-hire. At last, Jackson has left his troubled past behind and found a semblance of peace.
That is, until the government blackmails him. After Jackson is forced to help the military contain the aftermath of a bizarre experiment gone violently wrong, everything he knows about himself will change just as suddenly as it did with his little sister's shoe.
And while change is constant . . . it's never for the better.
Buy Now: ALL SEEING EYE